With Light-up Lunar Phases!
What's different about the moon tonight? It's inside your room! Authentically detailed, Moon In My Room hangs on your wall and shines moonlight just like the real moon. Twelve different phase settings let you match what the real moon looks like outside tonight!  
The ORIGINAL Light-Up Moon for your room!
  Listen to the audio tour to learn exciting facts about the moon and its unique relationship with planet Earth.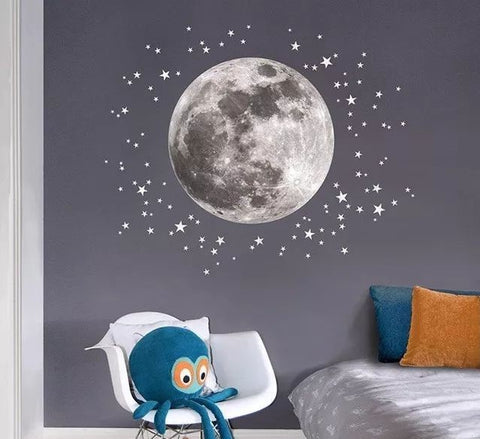 Description:
The Moon In My Room is an accurate curved relief of the real thing, and is designed to be mounted on your bedroom wall. Using a mini remote control, you can control the phases of the moon, or leave it on automatic and watch it phase through twelve stages from Waning Crescent through Waxing Gibbous to New Moon.
The Moon will automatically turn itself on in a darkened room, and turn itself off after 30 minutes (though you can override this feature if you wish). It's powered by just four AA batteries (with 2 AAA's in the remote).
Your Moon is light sensitive; it will automatically start illuminating in a darkened room. It automatically shuts down after 30 minutes of inactivity to save battery power.
Suitable for ages 6 years+.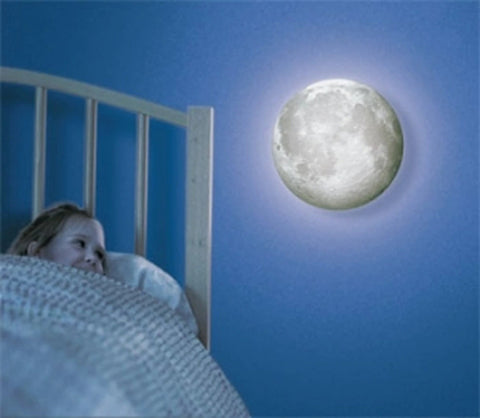 Features:
Realistic and detailed 3-D lunar landscape.
Automatic or manual function displays 12 main moon phases.
The accompanying MP3 download code provides a moon guide.
Automatic shut-down
Hanging on the wall