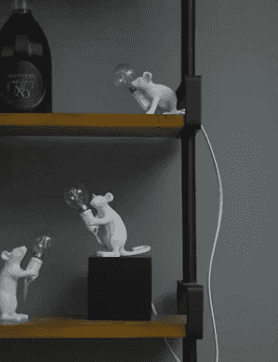 Product description:
Plug-in Wall Light ➤ Easy to control on / off switch, just one on / off switch on the power cord, enjoy a simple desk lamp.
Elegant appearance. Mouse look made of high-level resin. The sleek elegant appearance of this contemporary lamp elevates the aesthetics of your home. This modern table lamp is best for bedroom, living room, baby room, office, yoga studio lighting, nursery, dresser, coffee table, college dorm, coffee shop, bookstore in your library or study.
Convenient Side Table Lamp: The desk and table lamp has a convenient on / off switch on the power cord that makes it easy to turn it on and off without having to get up and flip a wall switch. It's also lightweight and sits perfectly on side tables to provide light without taking up too much space.

SPECIFICATIONS:
MATERIAL:

RESIN

SIZE:Standing(6*13.3*14.5cm)/Seated(5*15*12.5cm)/Crawling(2*21*8.1cm)
WEIGHT:

500g

USE:

FOR INDOOR USE ONLY

Voltage: 111V~240V (inclusive)