If you feel the light is dazzling when you use the desk lamp, then try our LED eye protection desk lamp.
Mobile LED table lamp with 2 brightness levels, clock, date and temperature display and alarm function, rechargeable.

This little gadget is the perfect equipment for all occasions. At home or on the go, the LED lamp with adjustable brightness provides the right amount of light wherever it is needed. The crystal display provides time, date and temperature. An alarm function is also featured. With the included USB cable you can recharge your lamp at a power outlet or through your PC. Also the perfect companion for your vacation.
Product Description.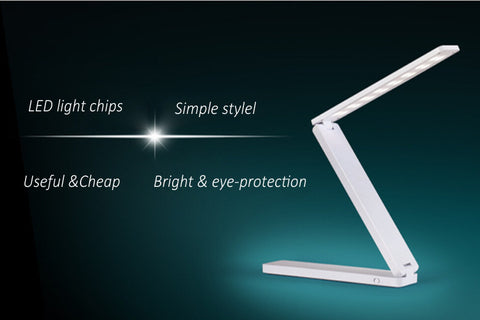 Technical Details
Number of LEDs: 18
Color of light:  White
Color temperature: 5500K
Intensity: 500 Lux
Color of lamp: Pearl White,Pink
Dimensions (folded): 182 x 41 x 28 mm
LEDs can not be exchanged